CASPER, Wyo. — In a surprise assembly on Friday, Journey Elementary fourth-grade teacher Rebecca Junge became one of over 60 teachers nationwide to be awarded this year with the Milken Educator Award, known as the "Oscar of Teaching."
The award comes with $25,000 in unrestricted funding and an all-expenses-paid trip to the Milken Educator Awards Forum in California.
"You have raised the bar very high; you're taking your craft so seriously," Wyoming Superintendent of Public Instruction Brian Schroeder told Junge. "Loving teaching the way you do and loving kids the way you do, I'm certain your presence and influence is going to inspire some of these kids someday to become teachers. … You are the best of the best."
The assembly was also attended by Milken Educator Awards Senior Program Director Greg Gallagher, Wyoming First Lady Jennie Gordon and Senator John Barrasso.
Since 1987, Milken Family Foundation (MFF) has recognized more than 2,800 of America's top educators. The Foundation highlighted Junge's classroom initiatives teaching civic engagement, financial literacy, and interpersonal relations, including communication and emotional self-regulation.
Journey Principal Coebie Taylor-Logan spoke to the school's emphasis on "social-emotional learning, mindfulness, restorative practices, and Conscious Discipline framework." In a video highlighting the impact of these strategies,  Junge said they have led to a significant decrease in office referrals, incident reports, and time spent out of class dealing with incidents.
"For Rebecca Junge, education is a living experience where students learn to think independently, explore self-identity and engage as productive citizens in our society," said Milken Educator Awards Senior Program Director Greg Gallagher in a release Friday. "I commend Rebecca for blazing this important path at Journey, and proudly welcome her into the national Milken Educator Network."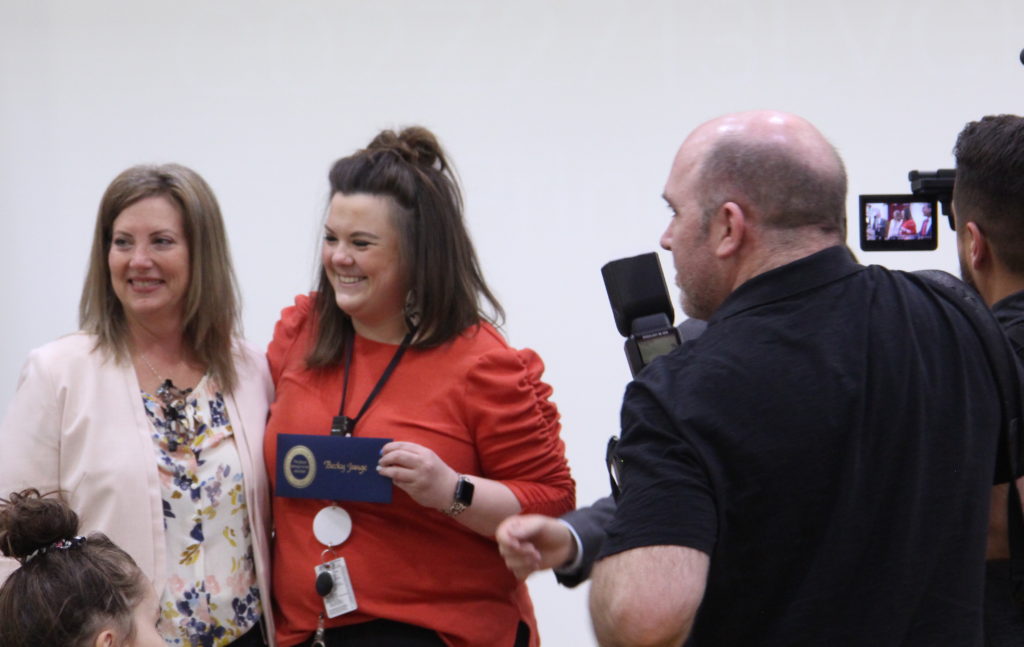 Junge said she would first use some of the award to pay off a credit card. She was also quick to credit her colleagues with employing and helping her develop the teaching strategies that gained her the unbidden recognition of the Milken Family Foundation (the award has no formal nomination or application process).
"I'm shocked because I was convinced that somebody else was going to win this prize just now," Junge said, "because there are some phenomenal educators in this building, and phenomenal kids, and the work that we do every day is what makes this possible."
"I'm so grateful to have worked in a building under Mrs. Logan that has given me the freedom and the trust to do what I think is right for kids," Junge added.