CASPER, Wyo — Six of the eight candidates for Wyoming's lone U.S. House of Representatives seat in 2022 attended a forum at the Ramkota Hotel Saturday, June 12.
"Wyoming is ground zero for taking back the Republican party," said K.W. Miller of the conservative group America First, which hosted the forum along with Dave Iverson, host of the Cowboy State Politics podcast.
Incumbent Liz Cheney has faced conservative backlash from Wyomingites and the national GOP for her public feud with former President Donald Trump, who remains the dominant influence in the party.
In May, Cheney was removed from her post as House Conference Chair by GOP leadership.
Candidates in attendance were:
Bryan Miller, an Air Force veteran and small business owner
Robin Bolinsky, a Sheridan small business owner
Marissa Selvig, former appointed mayor of Pavilion
Cheyenne lawyer Darin Smith
Denton Knapp, a retired U.S. Army colonel
House 57 Representative Chuck Gray
State Sen. Anthony Bouchard (Cheyenne) and Cheney were the only candidates not present Saturday, and K.W. Miller noted that multiple invites had been issued.
"Mark my words: any candidate that is not in the room tonight is not getting elected in 2022," K.W. Miller said.
Candidates on Saturday also accused Cheney of being out of touch with Wyoming voters, — 70% of whom voted for Trump in 2020 — and with the modern GOP, notably for her hawkish approach to foreign policy.
"The endless wars must end," said House 57 Rep Chuck Gray, adding that Trump "had it right" when he ordered the strike that killed Iranian general Qasem Soleimani in 2020. "It's not consistent with these endless troop presences, and that's what the Liz Cheney position is."
"We need to stop spending billions of dollars overseas to help fix other nation's around the world when our own nation is in distress," Selvig said.
Candidates were largely in agreement about issues like cutting federal spending to manage the national debt — forecast to be $40 trillion under current spending in 2031 — and protecting the Second Amendment.
Each candidate gave an unqualified "yes" to the question: "Would you pursue a declaration that Black Lives Matter, Antifa, and any other domestic organization that would openly attack American businesses and American citizens be declared 'terrorist organizations."
"We cannot heal as a nation until all criminals are treated the same," Bryan Miller said. "We need to seek them out and book them, and that goes back to all of these folks that burned cities over the past 18 months."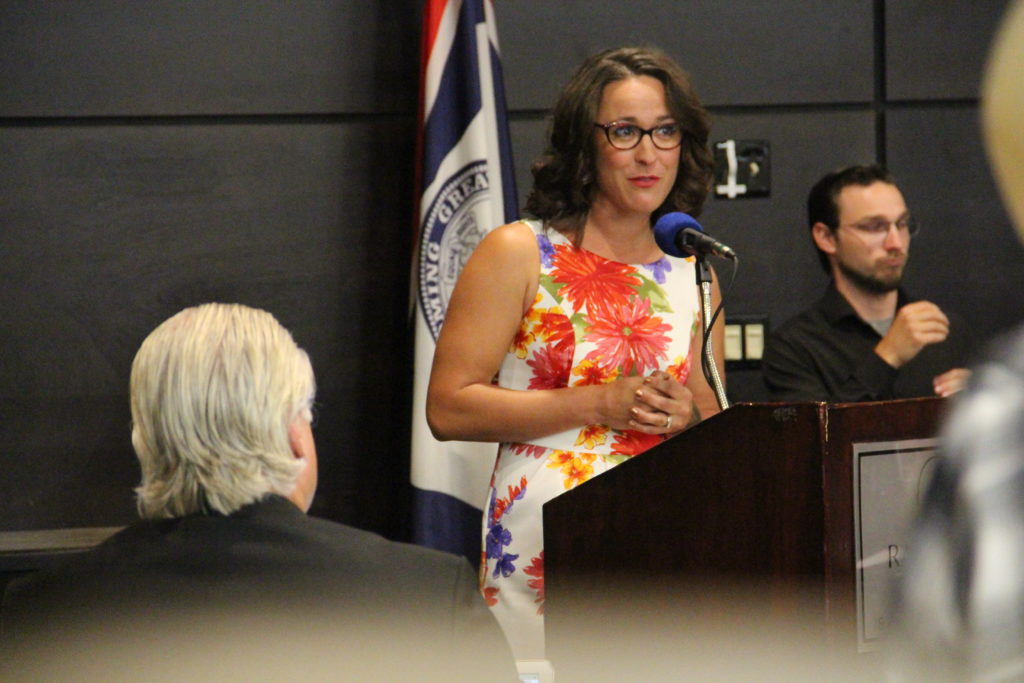 Candidates stood apart when stating their "number-one" priority for advocating for Wyoming in Washington.
Miller's priority was defeating House Resolution 1, passed in early March by the U.S. House, which mandates certain election reforms across the country (including automatic voter registration and early voting 15 days prior to an election). The Wyoming GOP has called the bill a "federal invasion" into states' rights to administer elections as laid out in Article 1, Section 4 of the U.S. Constitution.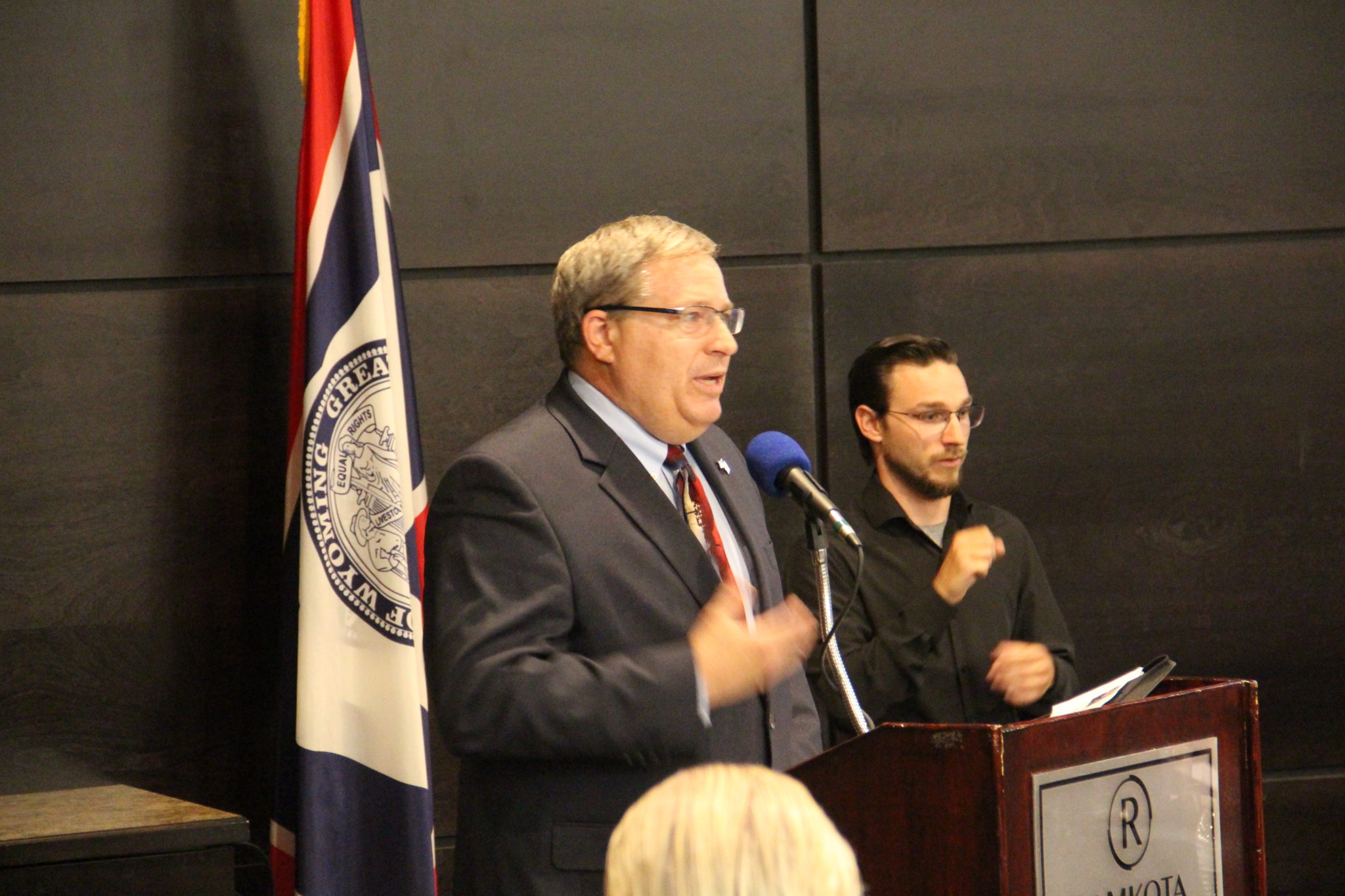 Gray said his strength was finding "legislative vehicles" to force action on issues his colleagues and previous governors wouldn't take up, such as pursuing litigation against west coast states blocking export of Wyoming coal to Asian markets.
Smith was in agreement: "Coal is to Wyoming what the potato is to Idaho.. and the first thing we've to do is push a real lawsuit against those in Oregon and Washington and open up our ports."
Gray said he'd also "find and draft amendments to the budget to prevent agencies from implementing unconstitutional, illegal executive orders."
"Usually these budget votes is where you separate the talkers from the real conservatives," Gray said, noting that he calls for recorded votes on each amendment to certain bills in the state legislature.
Selvig advocated specifically for mandatory country-of-origin labeling on food, "so that citizens who don't already buy from local rancher can choose something that was born, raised, and processed here in America." She also said she was in favor of the FAIR tax, which would eliminate income and estate taxes in favor of a single point-of-sale tax.
Selvig was also the lone voice in support of the Wyoming being the home to the first "Natrium" nuclear reactor, which was announced June 2 by Governor Mark Gordon, in conjunction with TerraPower Chariman and Co-Founder Bill Gates.
"We would be in bed with some really bad people," said Bolinsky. "I would rather see the coal and other energy utilized."
Despite being "leery" of Gates' involvement, Selvig said that "the nuclear power plants of today are not the nuclear power plants of the 60s and 70s."
"The way it's coming in to this state, I don't like it," Miller said. "We are actually being kind of used… as a test bed for a system that has not been utilized." Gray and Smith said the new reactor would be used to supplant existing coal-fired plants.
Selvig also broke from the other candidates when they were asked if they would throw their support behind the "leading conservative candidate" on May 1, 2022, in order to ensure that the proper candidate didn't fall in the primary to vote splitting.
"I don't want to make a promise like that yet," Selvig said. "I think the people of Wyoming want more than one person to choose from."
"I, too, am not sure about that.." Bolinsky said, saying she'd answer that when the time came.
By contrast Knapp said, "None of us come here to lose… but sometime next spring, we're going to have to do the right thing for the state."