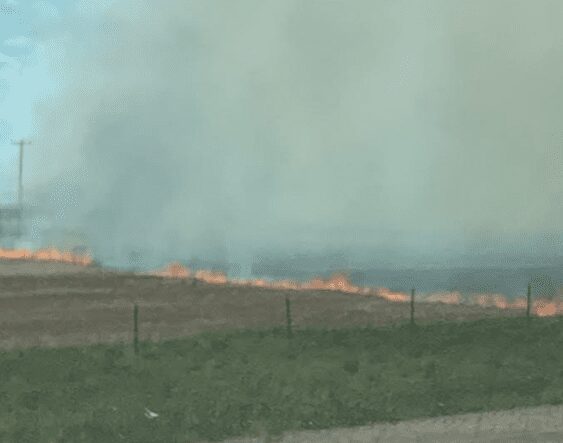 CASPER, Wyo. — The Wyoming Department of Transportation said at 5:39 pm Thursday, July 2 that US 20/26 between Casper and Shoshoni has reopened to traffic heading in both directions.
The highway had closed at about 4:48 pm due to a wildfire.
Fire crews are responded to the wildfire east of Powder River along the south side of US 20/26 between Casper and Shoshoni after it was reported at around 3 pm, according to Brian Oliver with the Natrona County Fire District.
Article continues below...
BLM Casper Field Office Public Information Officer Tyson Finnicum said that the fire is on a mix of private owned and BLM administered land. The fuel type for the fire is a mix of grass and sage.
"The initial size up is about 150 acres," Finnicum added.
Oliver said at about 5:10 pm that fire crews have been able to contain progress of the eastern edge of the fire. He said the south flank is still burning, but as the fire is on the south side of US 20/26 that part of the fire is burning away from the highway.
Oliver said crews will remain on scene into the evening and that smoke may be visible from the fire.
The BLM has two engines responding and there are two single engine air tankers stationed out of Casper responding to the wildfire as well. The Natrona County Fire District sent two brush trucks and Mills Fire Department and Bar Nunn Fire Department also responded to the fire.
The wildfire is believed to have been human caused, but Finnicum said further investigation is needed before an official determination can be made.