CASPER, Wyo. — The National Weather Service in Riverton said on Thursday that an Air Quality Alert will be in effect in Yellowstone National Park and other parts of northwest Wyoming until 1 p.m. Friday.
"An Air Quality Alert has been relayed from the WY Dept. of Environmental Quality for wildfire smoke into the northwestern part of the state," the NWS in Riverton said.
The wildfire smoke is coming from fires in the Pacific northwest and could lead to reduced visibility at times.
The Air Quality Alert area overlaps with Red Flag Warnings which are in effect in some areas due to dry, hot and windy conditions.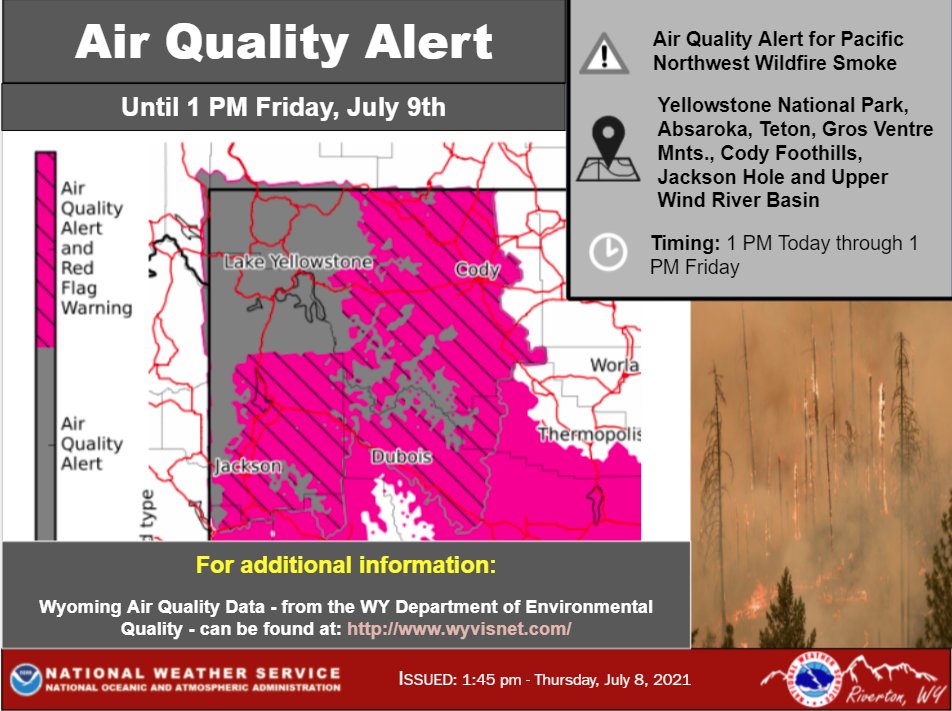 "The Wyoming Department of Health recommends that the elderly, young children, and individuals with respiratory problems avoid excessive physical exertion and minimize outdoor activities during this time," the alert states. "Wildfire smoke is made up of a variety of pollutants, including particulate matter and ozone, which can cause respiratory health effects. Although these people are most susceptible to health impacts, the Department of Health also advises that everyone should avoid prolonged exposure to poor air quality conditions."
People can check nearly real-time air quality conditions in Wyoming online at http://www.wyvisnet.com/.
While the wildfire smoke leading to the alert is coming from the Pacific Northwest, Yellowstone has also reported five wildland fires so far this summer, all started by lightning. All those fires are either out or controlled, according to YNP:
| Name | Reported On | Cause | Acres | Status |
| --- | --- | --- | --- | --- |
| Elk Creek Fire | June 24 | Lightning | 0.1 | Out |
| Divide Springs Fire | July 1 | Lightning | 0.25 | Controlled |
| Hard Road Fire | July 1 | Lightning | 0.1 | Controlled |
| South Bridge Fire | July 3 | Lightning | 0.1 | Controlled |
| Specimen Forks Fire | July 7 | Lightning | 0.1 | Controlled |