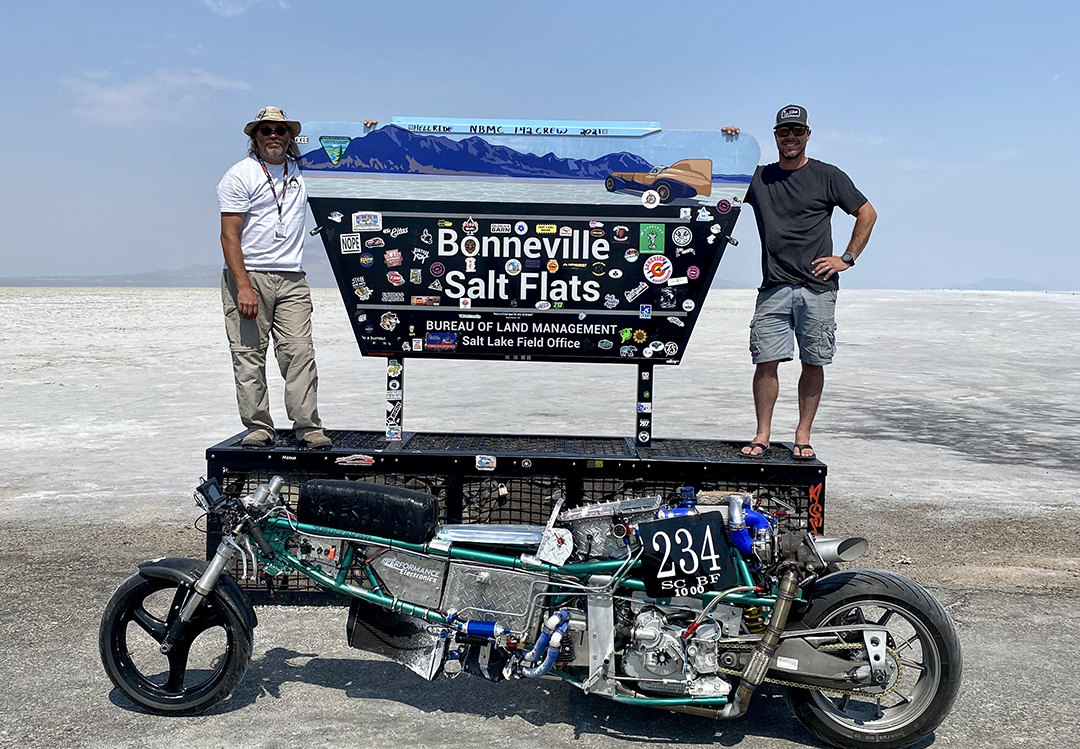 CASPER, Wyo. — Casper's Tyrell Marlow knows a thing or two about risk management. That includes everything from his day job at a local firm specializing in safety consulting to piloting a home-assembled motorcycle at nearly 160 mph down a desert stretch.
"It's intense," said Marlow. "If you're under 100 mph or 120 mph it's okay and you're cruising along, but when you start getting to 140 mph or 150 mph, the [wind] drag increases exponentially."
Marlow and his team, Moto Pirate Racing, set multiple land speed records during the 2021 FIM Bonneville Motorcycle Speed Trials earlier this month at the Bonneville Salt Flats in Utah.
Article continues below...
Along with Marlow, the team includes Nick Genet, and Marlow's cousin and motorcycle expert Jaron Tyner, who Marlow describes as "the genius behind most of it."
"I couldn't have built my bike without him," he said. "There's no question."
The machines that propelled the team are both assembled and modified by the group, and were carefully tweaked to fit within FIM's stringent regulations.
Marlow's bike is a completely rebuilt Suzuki TL 1000, which came to Marlow's possession as a frame, two motors, two bins of parts, four wheels and a manual.
The team rebuilt and modified the engine, adding a nitrous kit and other FIM safety bits along the way.
As a rookie, Marlow first had to run a shorter 3-mile course. After succeeding there and getting a feel for the bike, he successfully did his first 5-mile run, qualifying him to compete for the record.
During the qualifier he was able to push the bike near its limit, hitting the nitrous only a couple of times as he continued to learn his way. There's no equivalent in Casper to the Bonneville course, naturally, and the bike isn't street legal, so Marlow said this was his only chance to figure everything out.
After that, Marlow and the team had two hours to make any final adjustments on the bike.
"And I was like, 'alright, I'm going going for it because I want this record,'" he said.
The 5-mile course is marked with flags every quarter mile and mile. From the starting line, however, all Marlow could see while gazing down the straight, white and perfectly flat track was heat waves and a distant horizon.
Along with Tyner, Marlow started riding motorcycles as a kid growing up in Washington state, and he's been hooked ever since. He's hit high speeds in his time, but this experience was very different. "You've got to have guts to do this," he said.
As the speed inches higher, the slightest breeze or imperfection on the course become serious factors, as well as the increasing wind drag on his helmet and body. Any movement on his part is critical. There's also the hope that a tire or engine doesn't explode from the punishment. These things happen, after all.
"You can't be tense on [the bike]; you're trying to be calm, which is very difficult," said Marlow. "You feel bumps — you feel everything — but you're going so fast you just kind of fly right over them. As long as you're smooth with all your movements and your inputs to the bike, you're good."
Knowing what the bike could do, he pushed it harder by hitting the nitrous button for 23 seconds on the final mile.
Marlow's goal was to hit 160 mph. He ended up with a FIM Land Speed World Record of 157 mph.
Marlow's next record the following day came in a sidecar class using a long bike built by the team around a Ducati motor. They call this twin-turbo, 9-foot-long beast the "Coconut Express." Both Marlow and his cousin Jaron Tyner, who built the bike, set records with this machine.
In all, the team set three world records and two national records during this year's competition.
Marlow gave huge thanks to Gimoto, who provided the leather bike clothes, and PE Electronics, who helped with the advanced computer controls on the "Coconut Express."
Outside of racing, Marlow is enjoying slightly less adrenalin-pumping touring rides using a 2011 Ducati Multistrada he recently purchased.
"It's a sport bike on stilts," he said. "It's extremely comfortable."
---
An earlier version of this story incorrectly identified the builder of the "Coconut Express." It has been corrected.