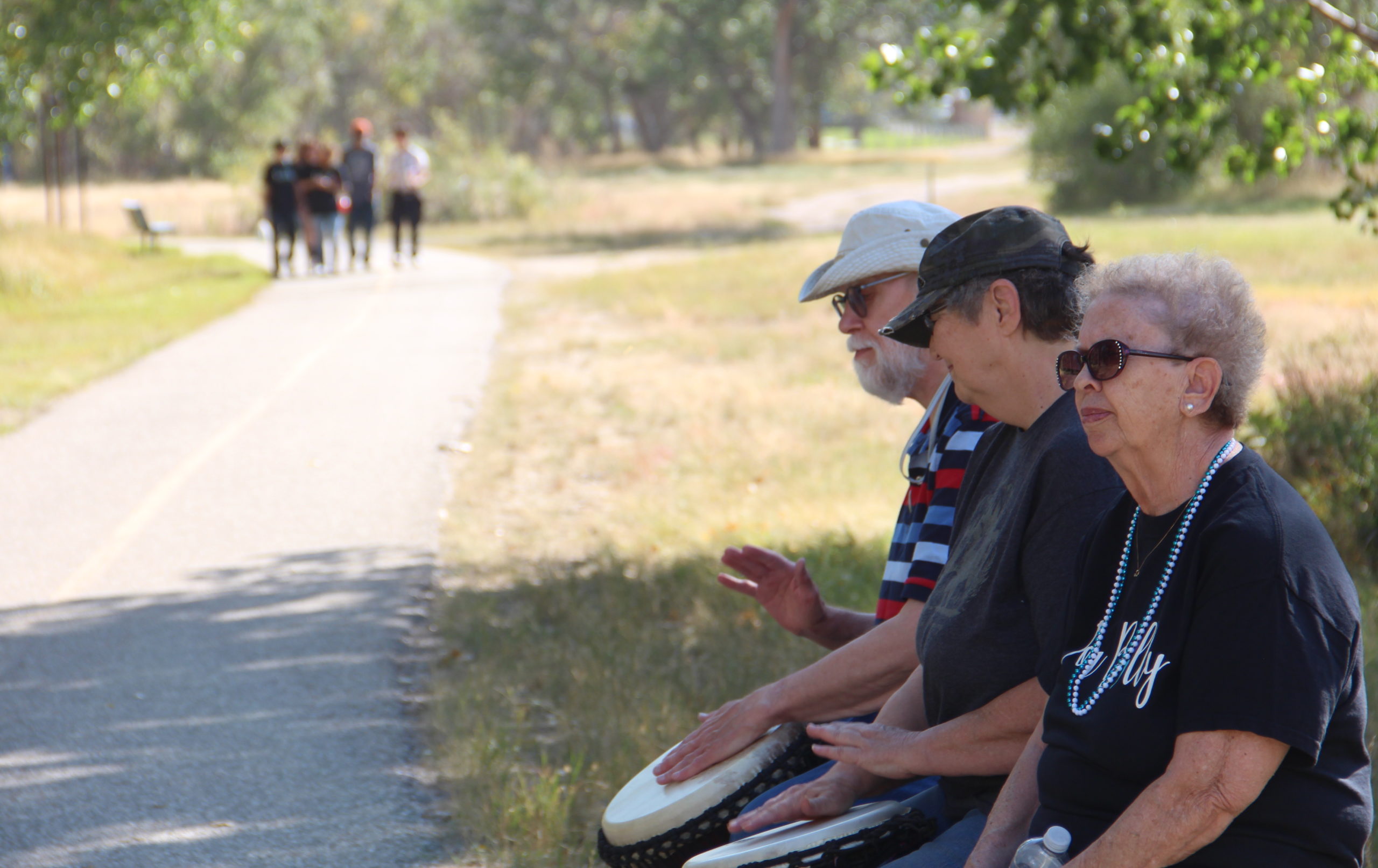 CASPER, Wyo. — The 18th annual "Breaking the Silence Walk" in remembrance of those lost to suicide was held Saturday at Crossroads Park in the midst of a disturbing trend in Natrona County: an average of one suicide every 10 days in the year 2021.
That's according to Lance Neiberger, who works with the Natrona County Suicide Prevention Task Force. There were 19 suicides in the county in 2020. If this year's trend continues, there will have been 35, Neiberger said.
From 2019 to 2020, there was a 33% drop in suicides, which some officials speculated may have been due to family and friends reaching out more emphatically during the COVID-19 lockdowns.
Article continues below...
Suicide was the leading cause of death in Wyoming for people between the ages of 15-24 in 2020, a rate per capita twice the national average, according to the United Health Foundation.
About 250 people walked the Platte River Path Saturday, according to task force coordinator Brittlynn Adame. They wore strings of beads with colors representing how suicide has impacted their lives.
Some came in remembrance of friends and family lost to suicide years ago. For others, the tragedy is just weeks old.
Charlie Unangst walked in memory of his brother Billy, a "retired police officer and cowboy," Charlie said. Billy committed suicide August 30, and the "For Billy" T-shirts worn by many are in his commemoration.
"We had no idea, like a lot of families," Charlie told Oil City News. "I didn't see the pain he was suffering inside. What he showed on the outside was not struggle and pain; it was happiness, courage and strength."
"What brings me peace," Charlie said, "is knowing how much help he gave others. That's what gave him his great joy, helping others."
Suicide prevention advocates say that raising awareness and destigmatizing mental health is essential to preventing tragedies. Wyoming's "pull-yourself-up-by-your-bootstraps" culture, they said, can make even base-level mental health difficult to address.
"It's hard to ask for even just a little bit of help," Adame said.
"It's not about 'strong,'" Charlie said, "It's about disease. It's about a sickness."
From a policy standpoint, Adame said the task force has been working with the Casper-Natrona County Health Department to provide QPR ("Question, Persuade, Refer") prevention training for all counselors in the school district.
Advocates are also looking to revive expansions to the Jason Flatt Act. A bill requiring suicide prevention training for all students in Wyoming schools was defeated in the Wyoming House of Representatives in the spring session.
Adame said the suicide prevention resources have had their budgets cut in recent years, limiting the task force's ability to host more events and raise visibility.
Lisa Boaz has been coming to the Walk ever since she lost her son Michael to suicide at the age of 22 in 2013.
Boaz said Michael was in the depths of drug and alcohol addiction and living in a toxic environment. It was that environment and confusion that led him to the act, and she believes that he didn't truly plan on dying.
"I wish he'd known how much people cared about him." Boaz said, saying there was "standing room only" at his funeral service.
"He didn't think anybody cared; he thought we'd all be better off without him. He had no idea."
Boaz lost her husband the following year. Her daughter has since become her "rock," and she sees Michael in the face of his daughter, Taylor.
Boaz remembers Michael as an avid chess player and an evolving lover of music; he went from being a fan of Insane Clown Posse to country line dancing at the Beacon.
Boaz said she didn't work for a decade but has spent the last three years working at the Events Center, saying Michael would have wanted her to thrive.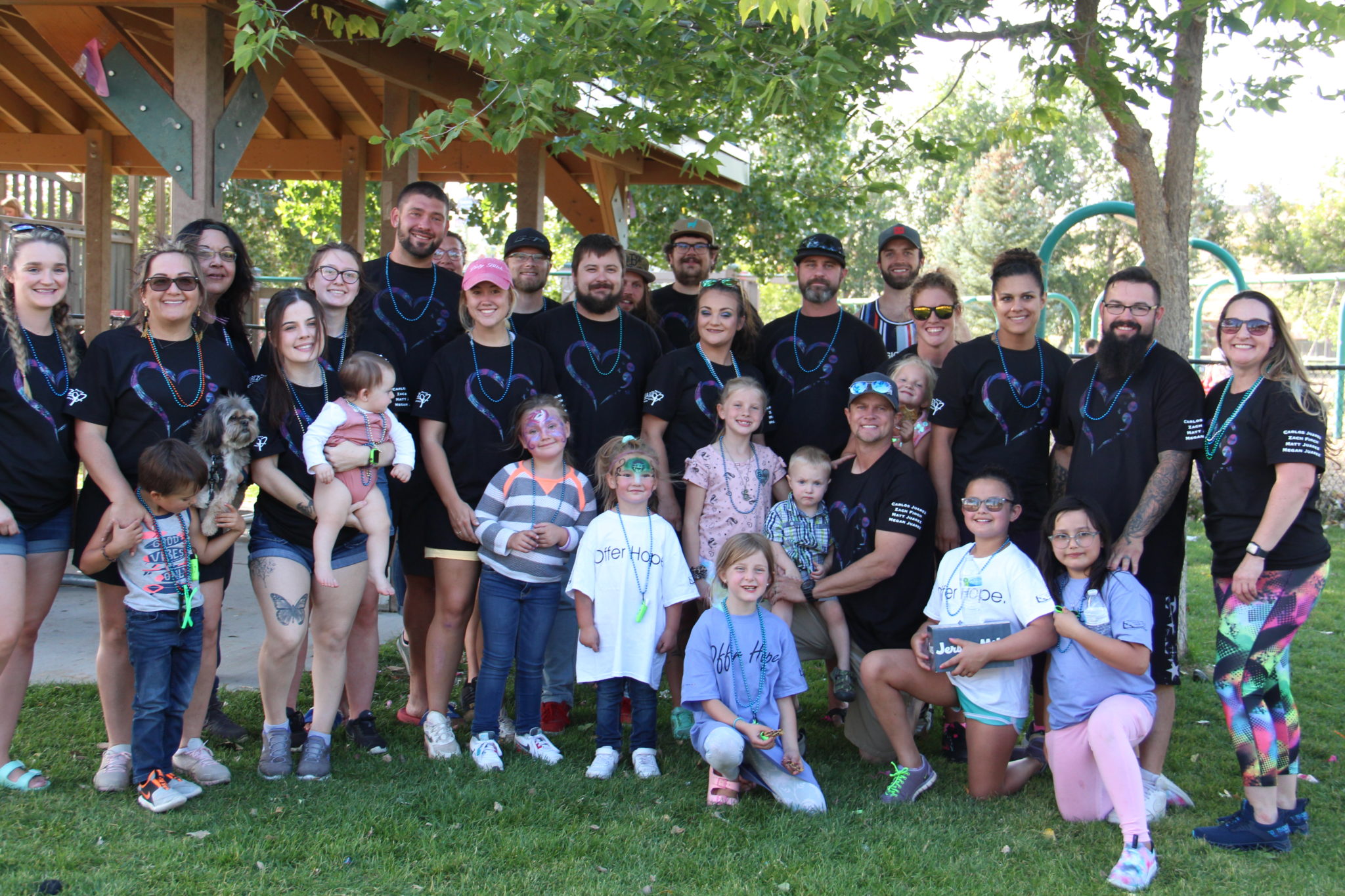 "Every time I work at a live concert, I think 'Michael would have loved this,'" Boaz said.
Neiberger, who lost his own son to suicide, said "Part of the problem is that the people who are left don't know why. It's all speculation."
One trend Neiberger is seeing is older people committing suicide.
Neiberger added that social media, with its curated galleries of vacations and happiness, can lead people to assume that they alone are struggling. He said people have found peace by turning off the news: "their demeanor lightens."
Neiberger added that people who are struggling currently should, in addition to seeking help, reflect on times when they've overcome difficulties in the past, acknowledge that life is full of struggle, and recognize that happiness may come in a form they can't currently anticipate.
"When I lost my son, it took me about six months to want to live. I wasn't suicidal … but I really struggled with that. A number of years later, my daughter gave birth to her kid, and that's the best thing in my life is the grandkid."
"We don't know what the future holds," he added. "We look at it from where we are today and think 'man, everything sucks, everything is horrible, it's not going to get any better … but I'm gonna give a shot, I'm gonna see what happens."
Neiberger said that most people he's talked to that have survived suicide attempts say, "'I am so glad that I did not go through with it.'"
Neiberger referenced Kevin Hines, who survived a jump off the Golden Gate Bridge and went on to speak about his "instant regret" the moment he jumped. 
For those left behind, Charlie has this advice: "Cherish the memories. Know that the pain, for the person suffering the pain, is over."
Resources
For immediate crisis assistance:

Central Wyoming Counseling Center Suicide hotline: (307) 776-0610 (Sunday through Thursday 4 p.m. – 12 a.m.)
National Hotline: 1-800-273-8255