Americans were giddy for Polynesian culture in the years following WWII, or at least a romanticized version of the culture.
The fantasy of cool cocktails on exotic Hawaiian beaches spread through cities across the country in the form of Tiki lounges and bars.
Tiki culture came to Casper in 1961 when the Reef Lounge opened at 101 S. Center.
The building right on the corner of First Street and Center was listed as Carshon's Children's Corner in the business directory prior to the Reef's opening.
According to an article in the September 3, 1961 Casper Tribune-Harold and Star, the new lounge was designed by Lou and Cliff Sawyer, a husband and wife decorating team based in Palm Springs, California, and known for their Tiki designs across the country.
The newspaper article celebrating the exotic new hot spot describes the scene:
"On the Center Street entrence there are two picture windows. The window to the left of the door contains a five-foot Tiki god standing amid joungle flowers and sea shells. To the right of the door stands an eight-foot Tiki god. Above the door is a small shelf running the width of the building filled with rocks collected from Wyoming rock beds by local rockhound clubs"
The bar was opened and operated by Bill and Keith Asbell and Bill Markham. About a year later a complimentary restaurant called the Surf Room was opened inside.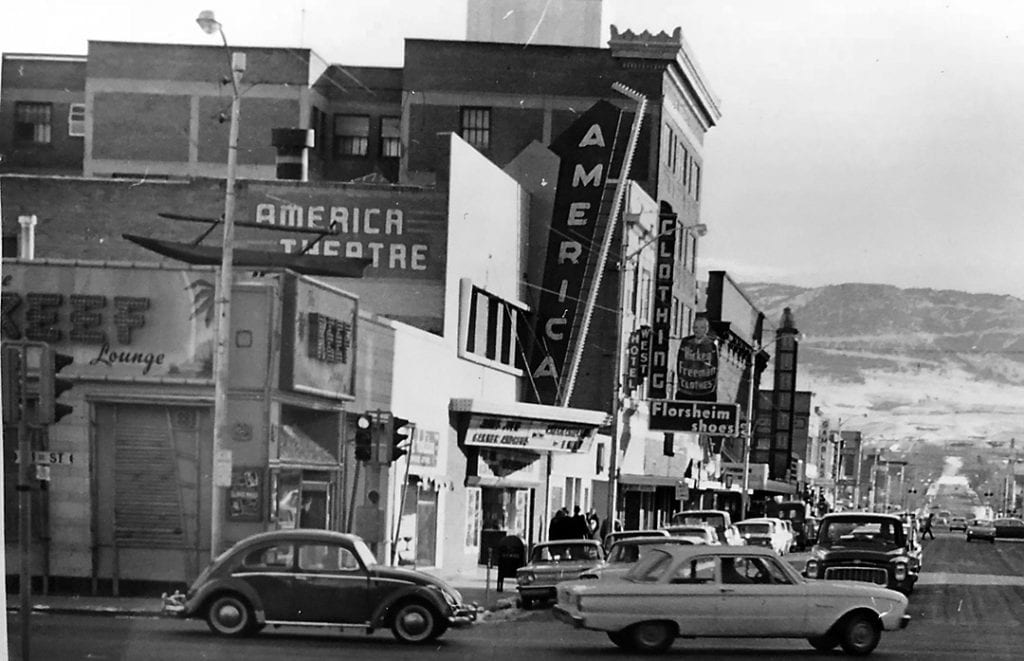 It changed hands a couple of times, becoming the "New Reef Lounge" in 1976.
By 1978 the sun had set and the Tiki torches were extinguished for the final time at the Reef Lounge.
The Polynesian paradise was replaced by a disco hall called The Sound Stage. Later a high end restaurant called the Wine Rack opened on the spot operated by the Weinrich family, who'd had a long run in Casper food businesses.
101 S. Center was no longer listed in any business directories after 1986. The location is now 1st Interstate Bank Plaza, a paved area next to the America Theater and backed by 1st Interstate Bank.