Dec. 31, 2019 – An outbreak caused by a novel strain of the coronavirus from a Wuhan market is reported to the World Health Organization
Jan. 20, 2020 – WHO declares COVID-19 a global health emergency
March 11, 2020 – A woman in Sheridan County is Wyoming's first confirmed case of COVID-19
March 12, 2020 – 3A/4A State Basketball Championships are canceled
The Casper-Natrona County Health Department (CNCHD) phones have been ringing ever since. Executive Director Anna Kinder still puts her face in her hands when she recalls Wyoming's first COVID cancelation. That initial shock still hasn't worn off for her. But has it for anyone?
That same evening, Public Information Officer Hailey Bloom told her grandparents in assisted living that she would see them in a few weeks and truly believed she would. At that time, Bloom figured it would be a stressful month, but that the situation would be under control by April. After all, this is the team trained to handle everything from norovirus to an anthrax attack. But what she didn't factor in was that there isn't a manual for problems that don't have solutions.
Kinder thinks she had a staff of around 40 people at this time last year; today, it's greater than 70. In addition to routine exposure to COVID-19, this team of nurses, clinicians, contact tracers and administrative staffers have endured physical threats for closures and mandates over which they had no say. They didn't want to stick the testing swab that far up your nose, and they dreaded informing each one of the thousands of people they called to relay the news of a positive test. They could only listen sympathetically when someone would call fearful for their life, as the disease didn't have answers. Over the last year, these 70 people have slept at work, sewed masks at home, unlearned and relearned contact tracing methods, and they've escorted seniors in from the snow for vaccination appointments. They've lost loved ones directly and indirectly to COVID but kept answering phone calls compassionately.
"It's a miracle that more people haven't left through this time," Bloom says. But the CNCHD team has come together to protect the community and move it forward. Working in public health through a pandemic is a lot more than just a day job, and they're resolved to getting us through it. But it's been a tough year.
March 13, 2020 – Natrona County Emergency Operations Center opens
March 15, 2020 – Natrona County School District closes public schools
March 16, 2020 – CNCHD conducts its first ever COVID-19 test
March 20, 2020 – Governor Mark Gordon issues first statewide COVID-19 public health orders limiting public gatherings to 10 people and closing dining areas, gyms, theaters, salons and more
March 20, 2020 – A woman in her 40s is Natrona County's first confirmed COVID-19 case.
Of course, the 3A/4A state basketball tournament cancelation was the tip of the iceberg. CNCHD call volume became unmanageable. Kinder and Bloom left the Spruce Street building for an Emergency Operations Center and held daily press briefings along with the City of Casper, Wyoming Medical Center and other public officials.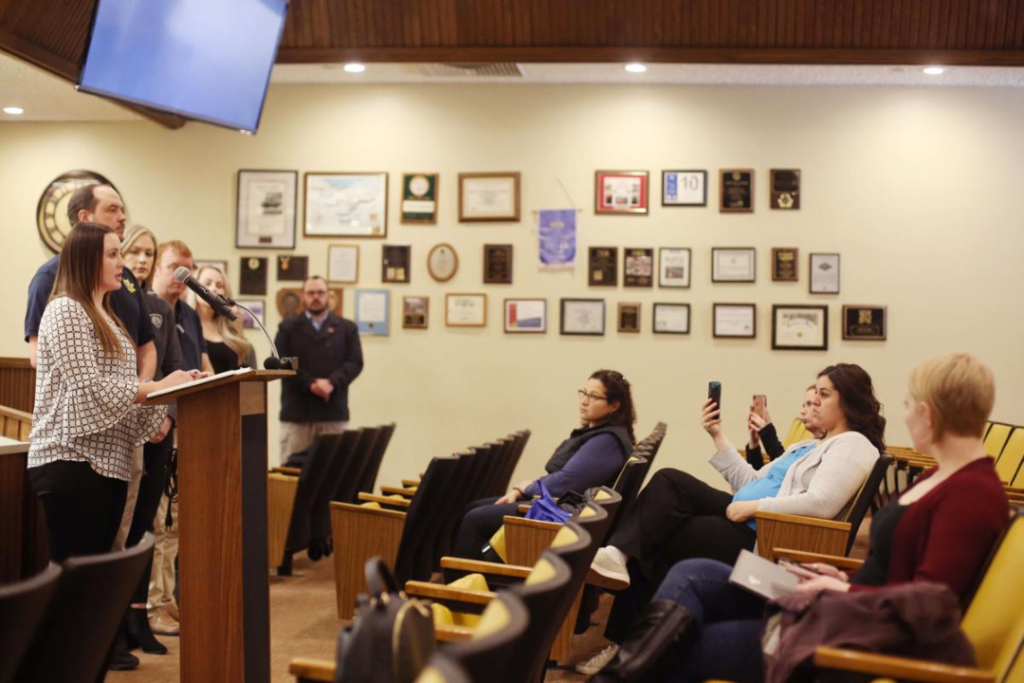 Chilling reports out of New York City and Seattle depicted hospitals as war zones, overrun with dying patients, nurses working around the clock, and nowhere to put all of the dead bodies. Could this become a reality in Casper?
"It was like the plague was coming. Nobody knew anything about the virus then. We had no way to treat it, no testing available, none of the right equipment. We were doing everything we could, but at that time, there was nothing we could really do," Kinder said.
In addition to the public health crisis they were directly responsible for fighting, Kinder, Bloom and the rest of their team were experiencing the same surreal, traumatic upheavals that everyone else in the world was. They were wrestling with impending economic turmoil, social isolation and waving to elderly loved ones outside of windows. Bloom didn't understand this new reality any better than the average person sitting at home.
Bloom and Kinder both describe losing any sense of time from March to May; those three months lasted a painful eternity for the CNCHD team. The hospital's role was to take care of sick people, while public health's was to inform the public and manage the crisis. But there are only so many different ways to say, "we don't know."
During this time, Kinder's oldest son commemorated his college graduation by watching his name scroll across a screen and Bloom postponed her honeymoon.
April 3, 2020 – CDC recommends the use of cloth or fabric face coverings to reduce virus spread
May 28, 2020 – Natrona County reports its first COVID-19 death
June 2020 – 34 confirmed cases in Natrona County
July 2020 – 61 confirmed cases in Natrona County
Sept. 2, 2020 – Natrona County Public Schools reopen for in-person learning since closing March 13
When Casper College was forced to finish the 2020 spring semester online, students and staff felt like they'd been cheated. Both the educational and social elements of college are hard to replicate over Zoom. That summer, Casper College President Darren Divine was determined to find safe ways to get students back in the classroom, and a close partnership with the CNCHD was critical to his plan.
"The Health Department wanted us to be open and in-person as long as possible," Casper College Director of Human Resources Rhonda Franzen said. "They didn't come in and tell us, 'you have to do X, Y and Z or you'll be shut down.' We never made decisions very far out because our president felt that it was a moving target, and the health department really helped us with that," she said.
Amidst a mountain of other priorities including securing an ultra-cold freezer for a vaccine rumored to be available in 2021, reopening Casper schools was one of CNCHD's primary goals throughout the summer of 2020. Schools are critical for our community's mental health and economic stability. It's just not normal to not be able to go to school, and we all needed normal.
Alongside Natrona County School District, Casper College and private school administrators, CNCHD developed best practices and contingency plans for teachers and students to safely return to schools in the fall. Working together, they found ways to implement social distancing, sanitizing and masking policies in dozens of different buildings to accommodate thousands of people. And it has worked. Schools have remained open, and infection rates have mirrored those in the community, indicating that there has been minimal virus spread in schools.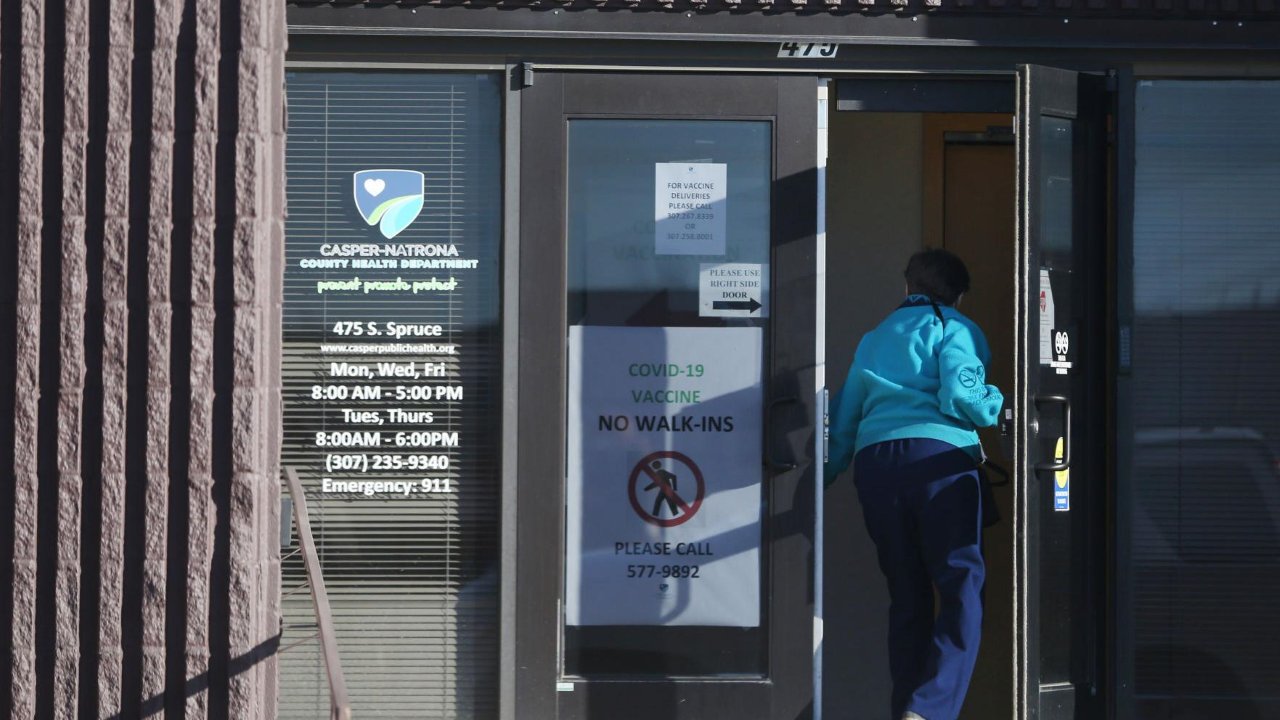 "Most of the other Wyoming community colleges weren't in-person this fall, and we were able to be. It wouldn't have been possible without Anna and her staff," Franzen said.
In June, Bloom was finally able to see her grandmother for the first time since March, but it was on her deathbed. She'd been on a downward spiral since lockdown, and she passed in hospice care. Her grandfather died soon after in September.
October 2020 – Massive outbreak in a Casper long-term care facility, eventually killing more than 25 residents
November 9, 2020 – Wyoming records all-time high of 931 positive cases
November 2020 – CNCHD performs 3,089 COVID-19 tests
November 2020 – 2,326 positive cases in Natrona County
"Think what would have happened if the spike we had in November would have been in March. It would have been disastrous," Kinder said. Bloom closed her eyes and shook her head.
Casper Mayor Steve Freel visited Wyoming Medical Center in mid-November. WMC Chief of Staff Dr. Andy Dunn brought him there to show him what COVID looked like. Even after years in law enforcement, Freel wasn't prepared for what he saw. "When you start having conversations with a coroner's office about how they're out of room, that's not a good day," he said.
Kinder lost her uncle to COVID in December. His family had not able to visit him since he moved into a long-term care facility in September.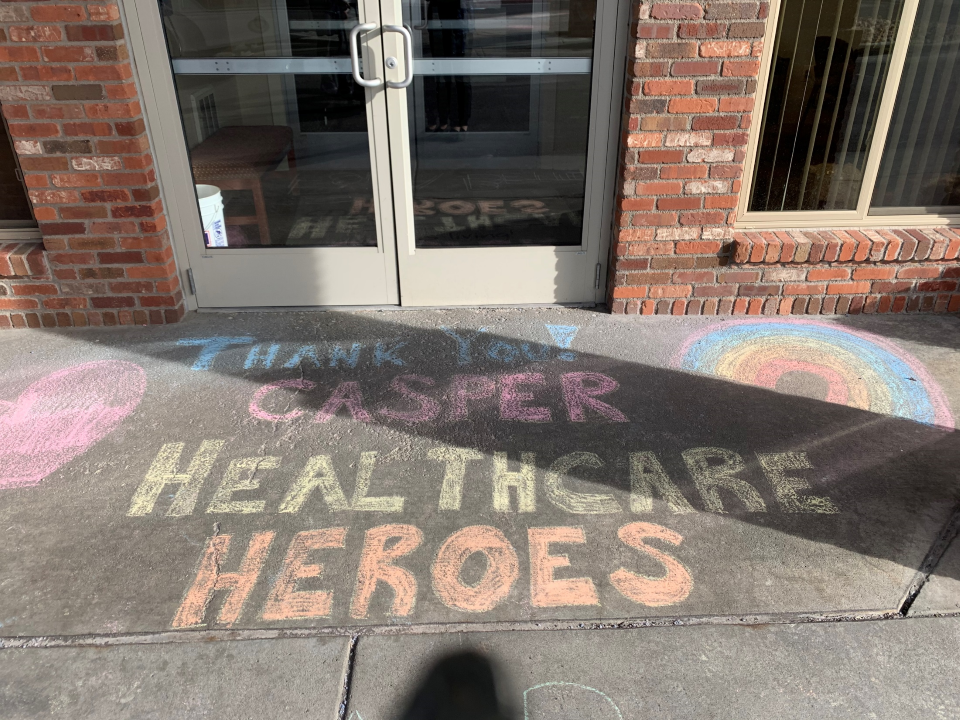 December 14, 2020 – The first COVID-19 vaccine arrives at CNCHD
December 16, 2020 – CNCHD administers Natrona County's first COVID-19 vaccine
January 2021 – CNCHD administers 3,746 vaccinations
January 2021 – Testing and confirmed cases steadily decline
February 22, 2021 – CNCHD gives its 10,000th COVID-19 vaccination 
Kinder's office at the health department is just outside the lobby, which has turned into the vaccination waiting area. This is where anyone who has received a COVID-19 vaccine must spend the mandatory 15-minute cautionary period to monitor for adverse reactions. Some people find this stop-gap annoying, but for others, it's a temple. For a lot of Casper's senior citizens, this is the first safe opportunity they've had to be around people in a year. Kinder recalls two women who used to play dominos together coincidentally scheduled for a vaccination at the same time. They hadn't seen each other since last winter, and during their 15-minute wait, they were able to laugh together.
"I heard them giggling. And it was like I was hearing two women giggle for the first time in months. People are so happy to see people again. Hearing them out there makes all of this worth it," Kinder said. She marvels at the resolution of this population, who show up to their vaccination appointments despite blizzards, windstorms or reliable transportation. "They'll find ways to get here," she said.
Natrona County's current vaccination numbers are well ahead of last year's projections and far exceed much of the county (see who is currently eligible). Between their efforts, along with partner facilities and private pharmacies, Kinder estimates that at least 25 percent of Natrona County has already received a first dose.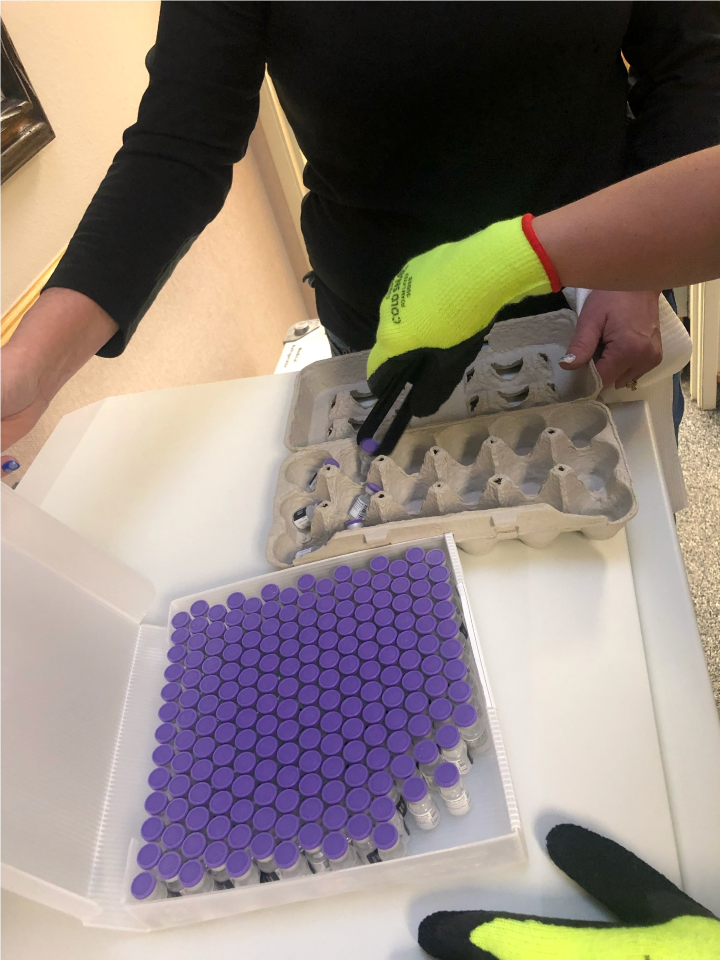 Mayor Freel credits Kinder and her staff for this success. "They are knocking it out of the park. They have a plan, they've been executing it, and they've been following state and national guidelines to the letter, which is the way it should be. Listen to them. If people would follow what the health department is saying, we'll get to the finish. They know what they're doing," he said.
You'll always remember the specific cancelation, shut down or proclamation that made you realize the world was about to change. Maybe it was when state basketball was canceled, or the first time you heard "social distancing." Or maybe you tried to visit a loved one in a long-term care facility and were turned away. Up until last March, it was naively easy to believe that Wyoming was too secluded, too isolated, too tough for something like this to happen here. But after one year, nearly 700 deaths and 55,000 positive cases, it's clear we were more vulnerable than we thought.
This March, COVID isn't over. A man in his 50s died at Wyoming Medical Center just last week. But unlike last March, the end is in sight. And today, we're not being asked to fight the battle in isolation. We managed to keep schools open, overcome the fall surge and now vaccine eligibility is quickly expanding. If you've already had yours, you've experienced the well-oiled machine the Casper-Natrona County Health Department has built. We're in good hands. While Wyoming isn't impenetrable, we are endlessly resilient. We'll get through this together.
---
PAID FOR BY CASPER-NATRONA COUNTY HEALTH DEPARTMENT
This article is a promoted post. The views, thoughts, and opinions expressed in the text belong solely to the organization that paid for the article, and do not necessarily reflect the views, thoughts or opinions of Oil City News, its employees or its publisher. Please fill out this form if you would like to speak to our sales department about advertising opportunities on Oil City News.